I never liked hummus.
Hated it.
Never even liked it touching my food.
If you touch my food Hummus I will not eat it!
Then I grew up.
Now I love Hummus.
I eat Hummus almost weekly.
I add it to stuff.
I eat it with stuff.
I eat it alone with a spoon like a crazy person.
I love the garlic.
The Zesty-ness.
Yum.
So for my day 3 of the July 4th series – Appetizers.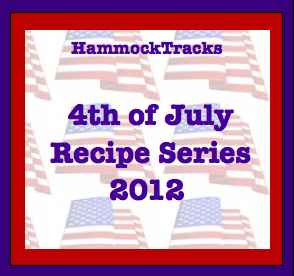 I thought why not Hummus. Its awesome, easy and crazy delicious.
And when no one is looking just grab a spoon and go crazy!
The line up.
Super easy I tell you. You can skip on the tahini but I like it so I use it. Make sure to mix the tahini well so its nice and smooth.
Toss in the food processor.
Don't be like me use your big girl food processor. I was being lazy and thought the tiny one will work I am sure it will ….. wrong… it was filled to the brim and ALMOST made a mess.
Stream the olive oil and pulse till its nice and smooth.
See what I told you about the big girl processor … shame shame shame ..
Sprinkle paprika, oregano and olive oil on top. Enjoy with pita chips or veggies.
Hummus ~
Ingredients~ Makes 6 servings ~ Prep time: 5 minutes
2 , 15 oz cans chickpeas (garbanzo beans), drained and rinsed
1 lemon
3 cloves garlic
1 tsp sea salt
1 tablespoon water
2 tbsp Tahini
1/3 cup olive oil, plus more for sprinkling on top
1/4 tsp smoked paprika
1/4 tsp dry oregano
Prep Instructions ~
In the bowl of a food processor, add the top 6 ingredients (for the lemon squeeze the juice of the lemon and add about a tsp of the zest)
Pulse for a couple minutes to combine.
Slowly drizzle 1/3 cup of olive oil while the processor is running, until the dip is creamy and smooth
Scrape down the sides a couple of times with a spatula to get all of the ingredients well processed. (If you like some chunks in there you can skip this)
Pour into you serving dish and sprinkle with olive oil, paprika and oregano.
Serve with Pita chips (Easy to make by cutting up pita bread and toasting in the oven or you can use the store bought chips which are crazy delicious) This also goes very well with veggies.
Oh Yummmmm. Make sure to dip and dip till you can't dip no more. Enjoy!! Check out the other appetizers from the wonderful ladies in the series below. Thanks.
Love always,
TZ xoxo