Buttery deliciousness. I choose Corn for my day 2 – Vegetables  in the July 4th recipe series.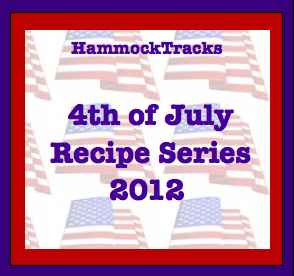 I love love love CORN and this is the easiest and tastiest way to make corn on the cob on the grill or in the oven. Easy clean up and only 3 ingredients. I am tired and of course lazy so you know I like to simple it up and here you have it .. no clean up and no mess .. wow .. I am the best.. yes I know it .. keep telling me tho .. I like it !!!
All you need. You can use unsalted or salted butter (I prefer the salted for this recipe).
Sheets of foil, make sure its big enough to go all the way around your corn cob.
Slice your butter . They don't have to be perfect slices, be imperfect like me
its the best way.
Lay corn in the middle and surround with about 3 slices of butter.
Sprinkle on salt. You can add a little pepper if you prefer.
Wrap.
Bake or grill. I did these in the oven this time but they are great on the grill.
Done.. dig in!!
Butter corn on the cob ~ Ingredients
Makes 4 servings ~ Prep time: 5 minutes, Cook time: 20 minutes.
4 ears corn
1 stick salted butter, cold
Salt and pepper to taste
4 ,10- 12 inch pieces of foil
Prep Instructions ~
Rinse and pat dry the corn.
Preheat oven to 350 degrees or if grilling get your grill going.
Slice butter into 12 pieces.
Rip out 4 large pieces of foil, about 10 – 12 inches long
Lay down the first piece of foil.
Place corn about 2 inches from the edge  of foil.
Place 2 slices of butter on one side of the corn.
Place 1 slice of butter on the opposite side of the corn.
Roll corn and foil and wrap completely around the corn.
Put on oven rack and bake for about 15 minutes on each side.
If doing this on the grill should be about 10 minutes or less on each side.
Should be done when corn is tender.
Enjoy
Corn is my absolute favorite and making the cob this way is easiest and most delicious in my opinion. You can spice it up and add a little paprika or fresh black pepper. I love it just this way, salt and butter only, simple and tasty. Enjoy!!! See more links from the series below. Thank you!
Love
TZ xoxo